Ciao Bello Restaurants
Ciao Bello Restaurants is a little piece of Italy located in Cranford, New Jersey. Our fine dining establishment is ready to treat you to a traditional Italian dining experience characterized by a warm, inviting ambiance, first-class hospitality, and fresh, seasonal ingredients. Indulge your taste buds in cuisine so authentic you just might think you're on a European holiday.
Sit. Eat. Drink. Ciao Bello Restaurants brings Italy straight to your table. Give us a call at (908) 497-0700 to make a reservation today.
Lunch With Us
Satisfy your afternoon cravings with a selection from our expansive lunch menu. Our lunch meals are characterized by quality ingredients, classic recipes, and generous portions. Sit indoors in our spacious dining area or, weather permitting, enjoy the fresh air on our charming outdoor patio. Our delightful venue is sure to sweep you away into Italian paradise.
Our establishment has the capacity for parties small and large. For larger parties, we kindly request you to give us a call in advance to reserve your table.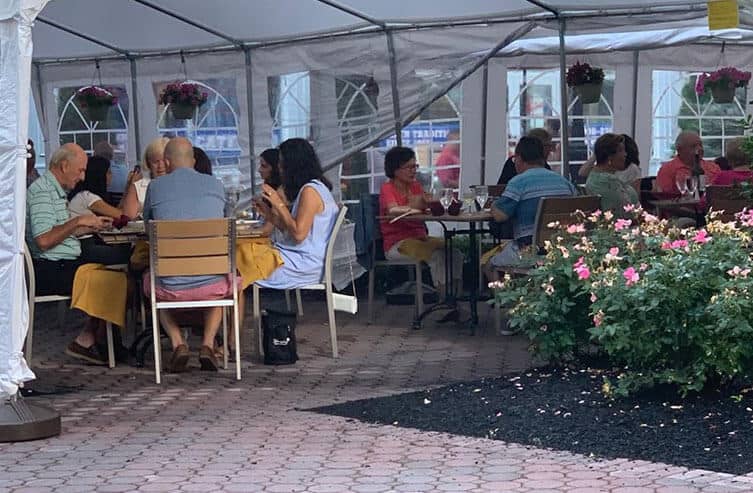 Dine With Us
Treat yourself to a true Italian meal. Our dinner menu is brimming with classics and delicacies. Choose from mouth-watering salads, scrumptious pastas, and tasty seafood options. With endless aperitifs and meals to choose from, our menu is sure to be a crowd-pleaser. Whether you're enjoying an intimate get-together between friends or hosting a corporate event, with us, you'll find a perfect, home-crafted dish for every guest and every taste.
"Very nice establishment. Food was delicious."
- Khristopher Roopnarine
"Food has always been fresh and delicious whenever we have dined at Ciao Bello."
- Sherri Bucino
"Absolutely Delicious. .. definitely would recommend and eat here again."
- Kelly Weekes
Dessert With Us
At Ciao Bello Restaurants, we're passionate about dessert. Once you see our dessert menu, you'll understand why. Our extensive list of treats is a sweet tooth's dream. Discover decadent third courses such as our signature cannoli and tartufo and finish off your dining experience with a sweet confection.
Culinary Excellence
High-Quality Ingredients
Culinary excellence is what drives us. We're not just professional chefs. We're food lovers. We love taking simple, high-quality produce and ingredients and combining them with creative flair to concoct the perfect bite. We take great pride in the flavor of our food. To ensure that every forkful is delicious, we source locally whenever we can and work with reputable suppliers to stock our kitchen with sustainable, healthy ingredients. Our culinary team flawlessly combines cutting edge cooking skills with a passion for Italian food and culture. We take simple concepts and add our special Italian touch to serve up exquisite meals that will leave your taste buds tingling with delight.
About Our Serving Staff
As passionate service professionals, Executive Chef Benny Cakir and his team are wholly devoted to making your dining experience five-star worthy. Our servers will cater to your needs with professionalism and a smile. Do not hesitate to inform us of any dietary restrictions, allergies, or other requests that you may have. We'll do our utmost to accommodate all your needs and create an unforgettable dining experience for you and your guests.
Reserve a Table Today
Ciao Bello Restaurants is your neighborhood Italian bistro with a tradition rooted in flavorful food and warm hospitality. At our establishment, your dining pleasure is our priority. Enjoy authentic Italian cuisine right here in Cranford.